Jeng-nan Shiau (蕭正男)
I graduated from National Taiwan University in 1963 majoring in Mechanical Engineering. After military service and working as a teaching assistant at the university for one year, I came to the US to study at the University of Rochester in Rochester, New York in 1965. Upon getting my Doctorial degree in Mechanical and Aerospace Sciences in 1969, I worked for NASA at its Goddard Space Center near Washington DC.  I then moved back to Rochester to work as a research associate at the university in 1971.
In late 1973, I joined Xerox Corporation, the company that invented copying machine. I was part of a team to analyze the physics of the electro-photographic process and to design better and faster machines. Later on, I was also involved in the development of ink jet printer. As the copier changes from light lens to digital using scanner and laser, I changed my field to work on digital image processing. In a digital copier, a scanner scans the original and the information in the original becomes bits in computer memory. The digital bits can then be enhanced and turned into tiny halftone dot pattern. A laser then writes the pattern on an electrostatic charged photoreceptor belt.  The charged pattern is then developed by dry ink powder and transferred to paper and it becomes your copy. Over the years, I have been awarded about 22 US patents in digital image processing in addition to some technical publications.
Following is a photo of my family taken in front of our high school in May 2000 while we were back in Taipei: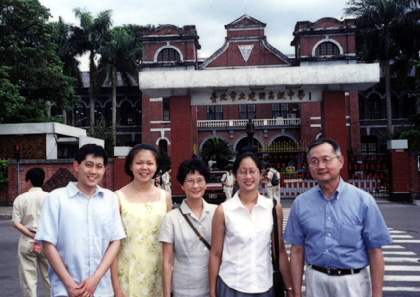 Next to me are my daughter Tina, my wife Chung-tzu (澄子), my daughter-in-law Yvonne and my son Harlan. We had a great time visiting with our relatives in Taiwan.
We lived in Webster, a suburb of Rochester in northern part of New York State. It is about an hour and half in driving from Buffalo and Niagara Fall. It is snowy and cold from November to March. However, the summer is mild and the parks here are beautiful in the spring and fall.
Among our classmates, I-Hung Chiang and I both came to the University of Rochester. Cheng-che Kao also worked at Xerox in the earlier 70'. I met with Shih Chou when I went to LA many years ago. Wu-en Lin visited me unexpectedly when he came to visit his wife's relative who turns out just lived near by us. Most recently, I had the good fortune to meet with Cheng-che Kao, Kun-ti Chen, ChaoJeng Lie while I was in San Francisco for my daughter's wedding.